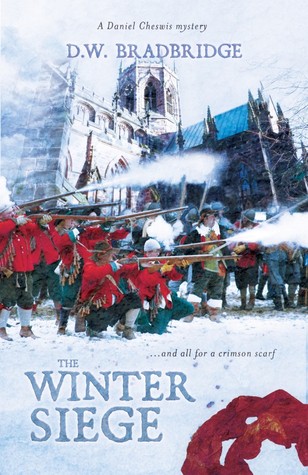 This period in English history was a bit hazy for me so this was a good read for me personally as I got educated in the process.
The year is 1643 and King Charles is at odds with his Parliament. Both sides are determined to win a war which is being fought unfortunately in the countryside and villages of England, much to the detriment of the simple villagers and with huge damage to property, livestock and life.
The story is set around the town of Nantwich. The royalists have once before swept through this town and people haven't forgotton their rampage. Now they are on the outskirts of Nantwich again and the townsfolk are not being left in peace to just carry on their daily work. There is tension in the air more so brought on by the inexplicable murders of not just one person but three. The constables both Daniel and Alexander are perplexed as to the motive of the crimes and to the perpetrators. With so much going around there is very little time for conjecture and people need to find solutions to everything very fast.
Set amongst the time of conflict and with the ongoing murders as well, Daniel our chief character and his life amidst this time is very descriptively told. I specially liked the detailed description of the brine and salt making industry which made Nantwich famous and though it seemed on the decline the details of its working was interesting reading.
Daniel has to sort out the murders as well as be part of the garrison protecting the town. Who is the traitor in their midst? it has to be someone with knowledge of the local populace as well as with a grudge against some of the families in the town.
The twists and turns of a small town holding out against Royalist forces and at the same time just trying to survive is brilliantly told.
This was a download from Amazon. Thank you to the blogger who recommended it.